Promotion
Metal to The Masses - The Battle for Bloodstock

Plug Studios is pleased to be organising this years 2015 Battle For Bloodstock competition. A series of 5 heats, 3 semi finals and the grand final will see the winning East Anglian band play the UKs premier Bloodstock festival in August.



Thrashersaurus III - Saturday 19.04.14
This years Thrashersaurus has grown into a beast of a day. We have moved to a larger venue (The Brickmakers, Sprowston Road, Norwich) and have two stages on the go !
Here is the facebook event page
Featuring the best local and nationwide Thrash and metal bands, including in no order:
Bull-Riff Stampede
Incinery
Savage Messiah
KEMAKIL
Shrapnel
Thrashist Regime
Terebos
Wretched Soul
PAIN PENITENTIARY(Official)
THIRTEENTH SIGN
Killer Hurts
Seethe
Lucien Sarti
Saigon Kiss
Plus others!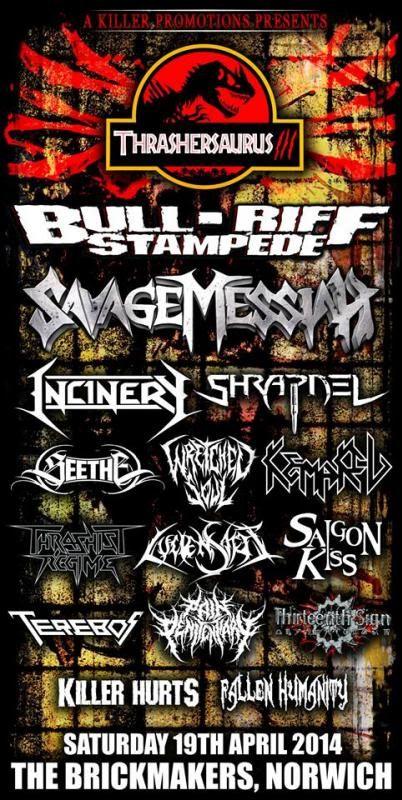 Thrashersaurus- Saturday 21.04.12
Thrashersaurus is an all day Thrash Metal Gig in aid of Norwich Food bank Charity - Saturday 21st April at King Edward V11 on Alysham Rd, Norwich.
Entry is just £3
Starts at 1pm
BBQ
Local Thrash metal bands are playing all day event in support of a local worth while cause.
Norwich Foodbank is a charity network which aims to help people in crisis.
How it works: Food is donated by local people. Volunteers sort and pack the food into food parcels containing enough food for 3 days. Front line care professionals identify people in crisis and give them a foodbank voucher. The voucher can then be exchanged at the distribution centre for a food parcel. A simple, yet very successful concept.
Norwich Foodbank
The line up of bands is:-
Killer Hurts (headline)
Shrapnel
End Soteria
Kemakil
Fallen Humanity
Grimmace
Redeem The Dead
Then Came Chaos
About our Promotion Services

Here at Plug Studios, we try to ensure that those musicians who want to perform outside of our rehearsal studios get the chance to do just that!

Not only are we in touch with promoters, venues and various bodies involved in the local music community, we also actively promote shows ourselves.

Keep an eye on our news section for details of upcoming events.